Follow the artist on Instagram @jaybsese to see the most up-to-date artwork!
Event Artist for weddings, corporate functions, fairs, sporting events, private parties, etc.
Jay will draw your guests at your event, up to 20 portraits per hour. Wedding & Event Caricaturist & Portrait Artist:
No event is too small or too large!  Fast-paced traditional caricatures and portraits drawn to delight your guests (12 – 20 drawings per hour, depending on amount of detail required).  Jay draws in multiple styles: realistic, Marvel/DC comics, caricature, Japanese manga and anime, and glamour; this makes the experience enjoyable for all ages and tastes.  Drawings can be done in black and white, with grayscale shading or in full colour.  Pre-drawn templates can be custom designed for themed events.
NOTE: If needed, additional artists can be provided for larger events.  In fact, we have a team of top artists in the GTA that can accommodate any size of event!
Booking Fees:  $125 per hour with a minimum 2 hour booking per event (plus travel depending on location of event).  Locations involving over 2 hours of travel will require a minimum of 4 hours booking and possibly cost of overnight accommodations. 

"Jay, you have no idea how much my guests loved having you there. They had never seen anything like it. The compliments we received were amazing!! We wanted to say thank you. You helped make our wedding not only amazing BUT memorable for so many people."
—Beau & Claudia Gaudet, St. Catharines, ON
Other samples of live event portraits by Jay Sese:
OVERFLOW PLAN…FOR LARGE WEDDINGS & EVENTS
If you plan on having all your guests drawn as a party favour and there is not enough time in the evening to do so, no problem: ask about our "Overflow Plan." How does it work?  We photograph the remaining guests, draw them within the next few days after the wedding reception and email you copies of the drawings to distribute to the guests, or you can arrange to pick up the original drawings.  The overflow plan can be used with any large event, not only weddings.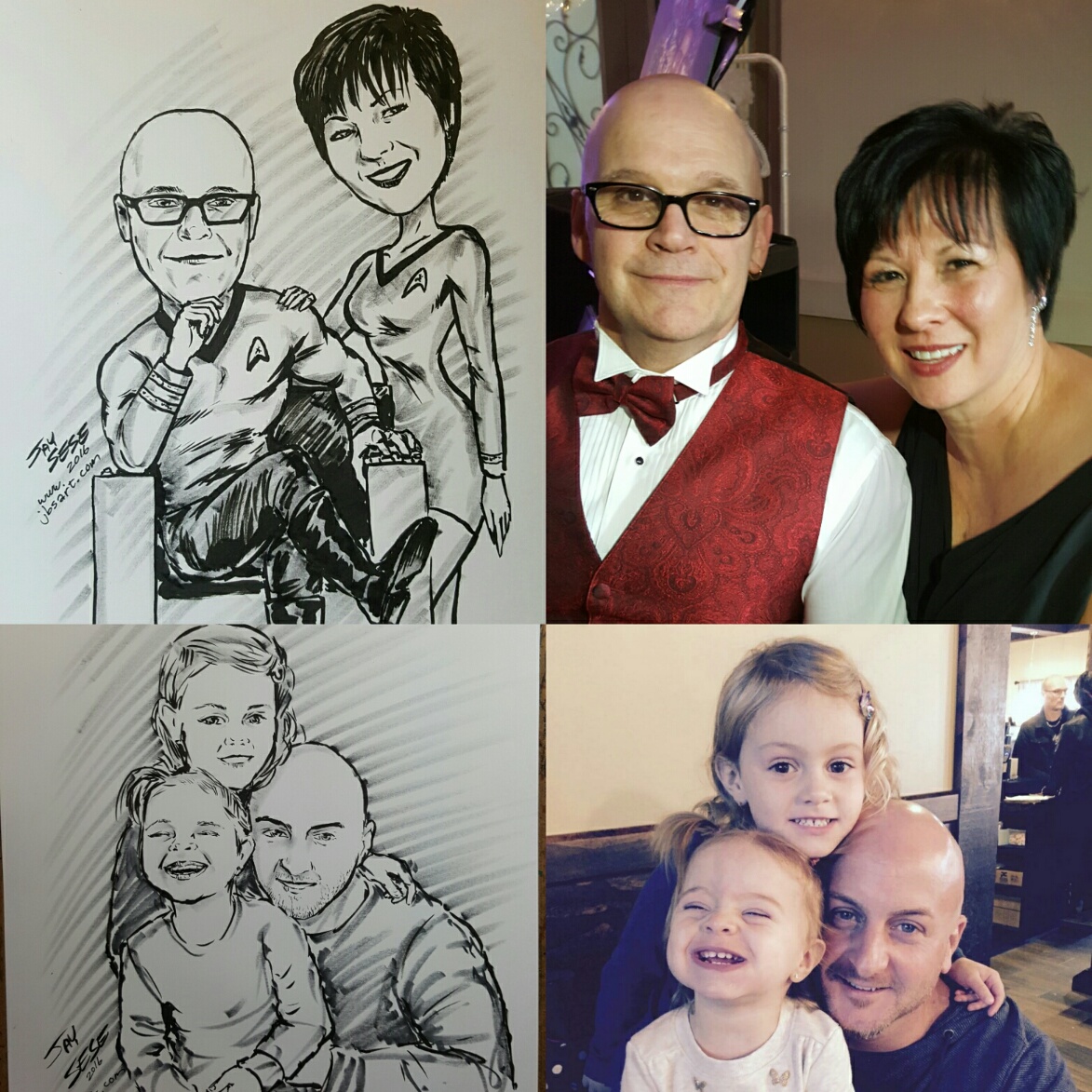 Guests drawn from photos, wedding at the Grand Olympia in Stoney Creek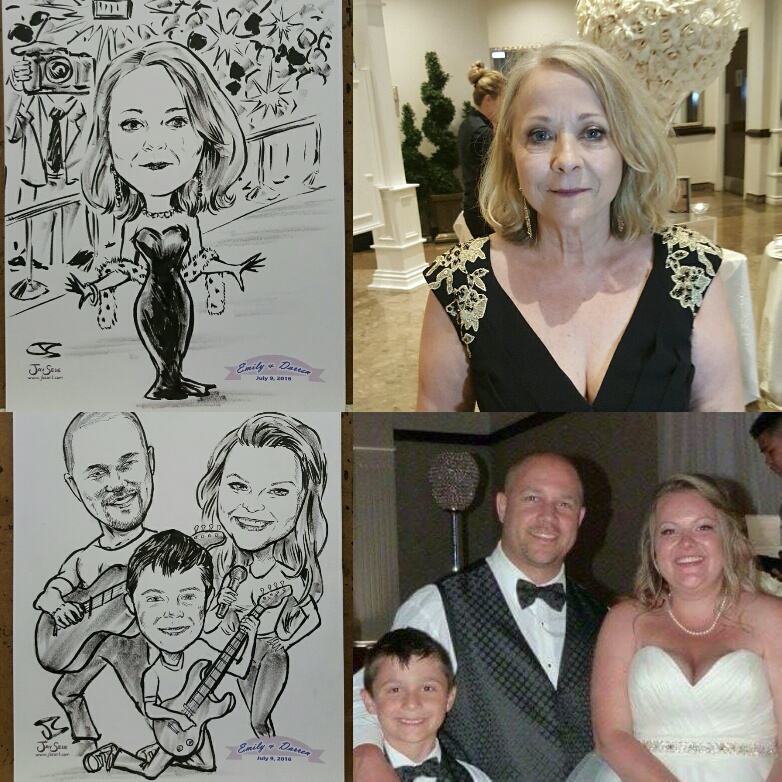 NOW AVAILABLE…LIVE DIGITAL CARICATURES!!!
Booking Fees:  $175 per hour with a minimum 3 hour booking per event.  The artist will draw using a Wacom Cintiq graphic tablet, laptop computer, and will print out the portraits on a colour printer.  A large monitor can be viewed so guests can watch as the artist draws!  This method allows for greater detail and customization for your event.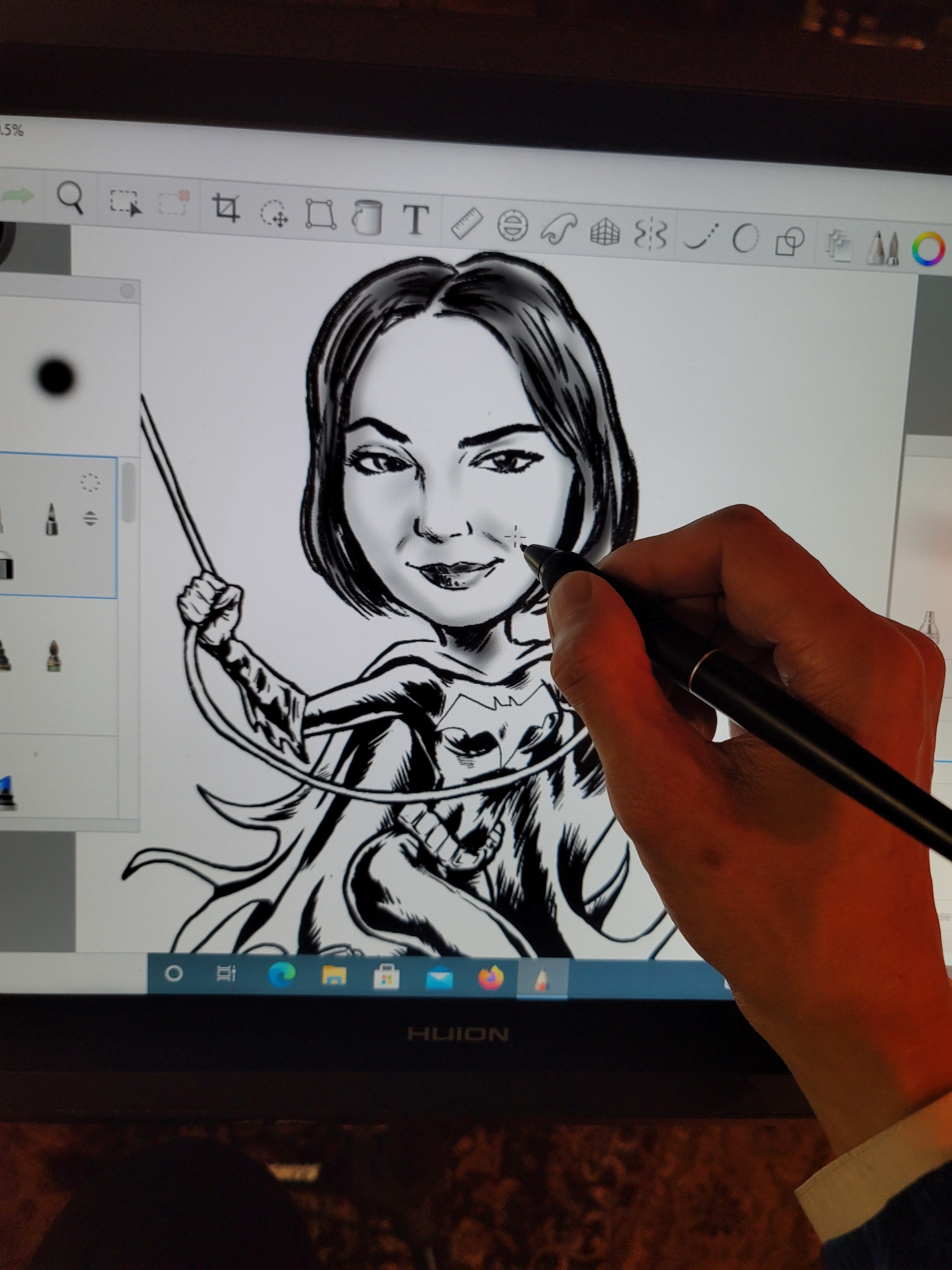 Drawing on a graphic tablet using Sketchbook Pro or Clip Studio software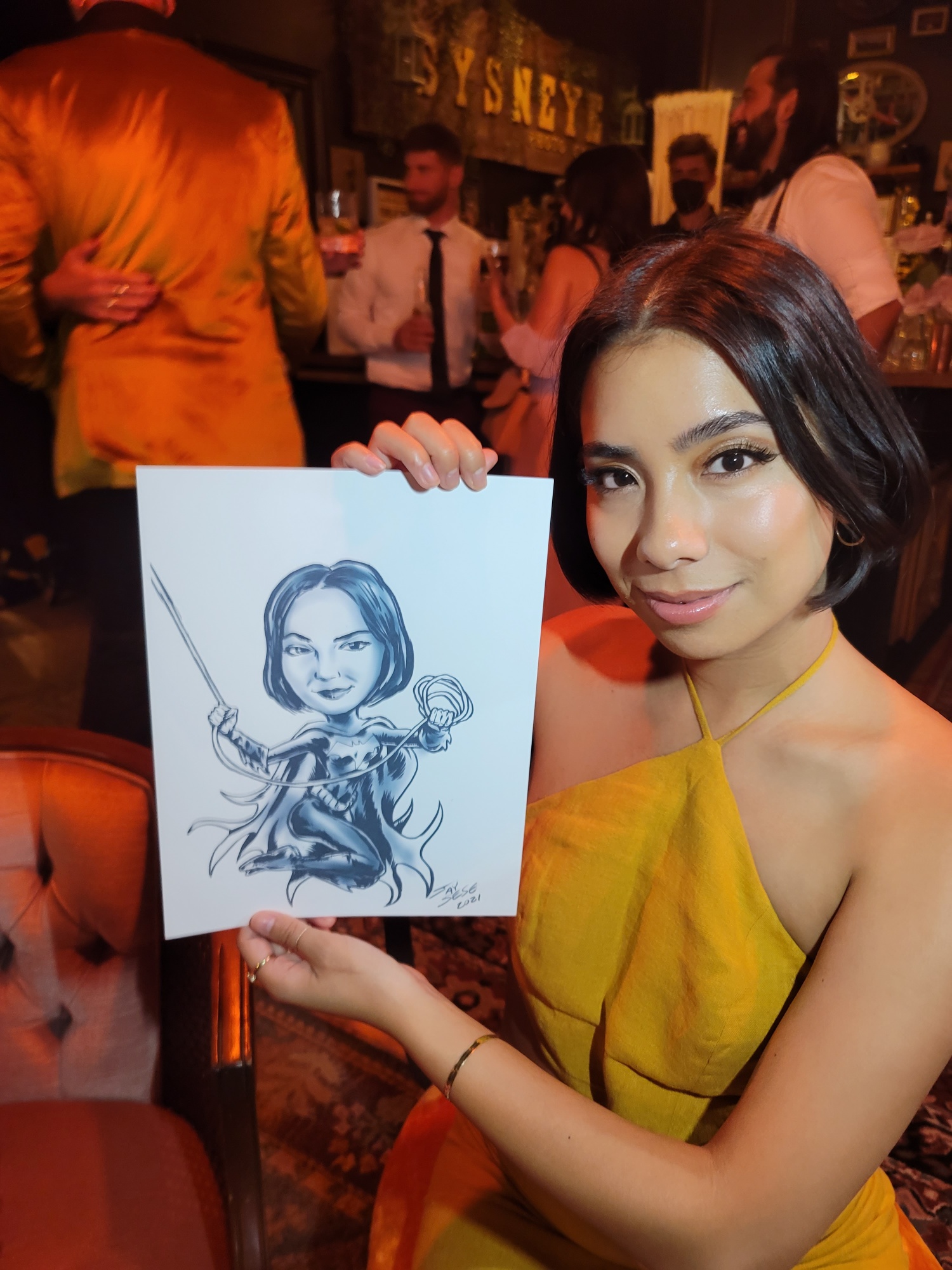 The completed portrait, printed on the spot for the guests to take home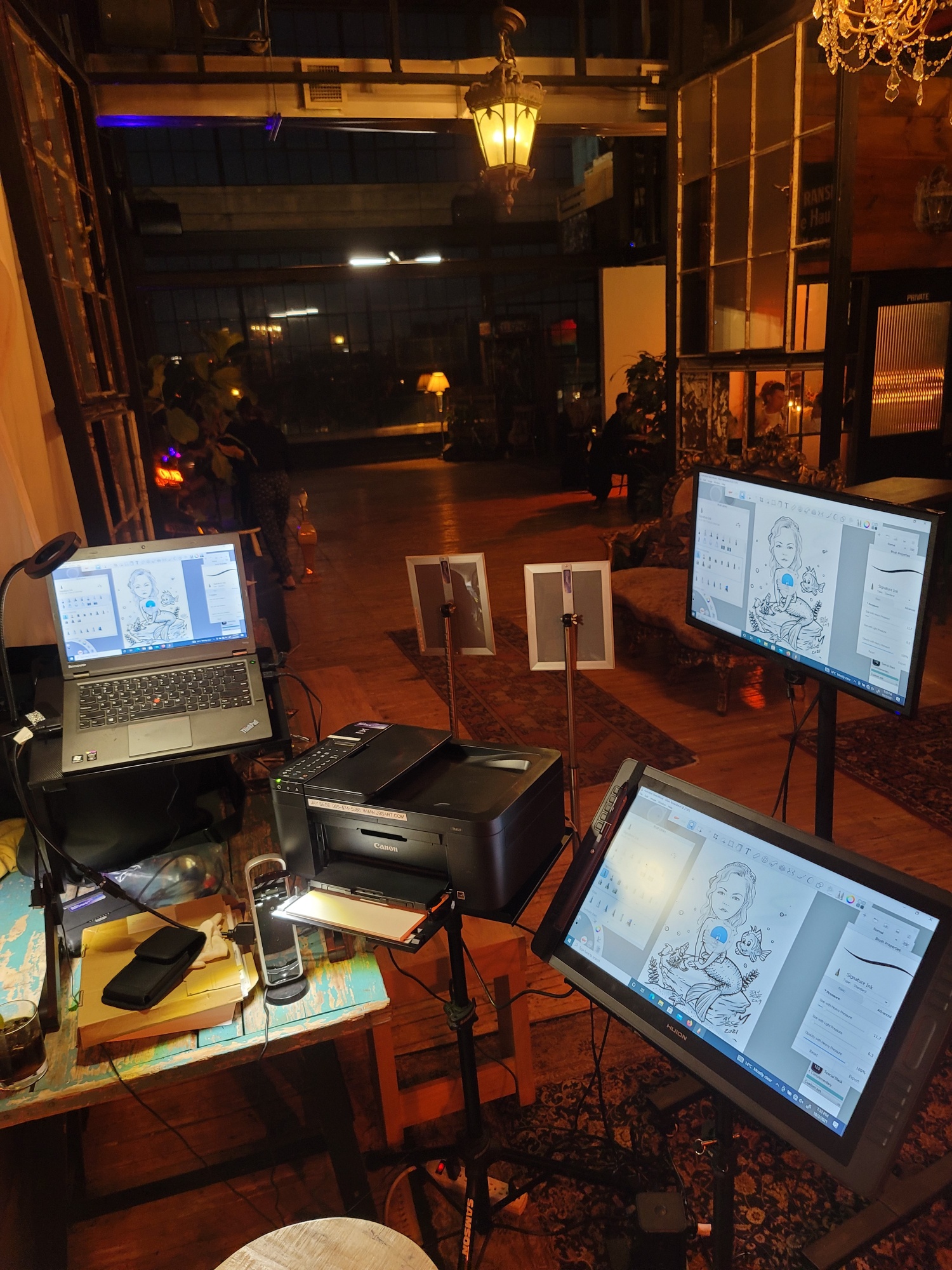 The typical setup for digital portraits.  Yep, there's quite a bit of hardware going on here!
UNIQUE REALISTIC/SURREALISTIC PAINTINGS FOR GIFTS OR SPECIAL OCASSIONS
The artist can illustrate and paint in just about any style, and is known for his highly imaginative ideas. Prices vary depending on size and complexity of painting.
Just send photos of the subjects you wish to be painted, along with your ideas for composition and style.  The artist will offer creative suggestions to improve the final outcome of the portrait.  This collaborative effort is a unique journey that both the client and the artist undertake, and is a large part of the enjoyment of the creative process.  Depending on the nature of the painting, the artist will use one or several different media including acrylic paint, graphite, Copic, gel and India inks and oil paint.  Allow 2-6 weeks for completion.  A deposit of $100 is required to start a project and is non-refundable once the artist begins work.
BRIDAL PARTY GROUP PORTRAIT
(Black & White, Grayscale or Full Colour: sizes come in 13" x 19", 20" x 24", 22" x 30" and larger)
Just send pictures of each person in the bridal party along with details of the type of formal wear, hairstyles, wedding cake, etc. and we will draw a large group caricature portrait for you to proudly display at the wedding reception!
Additional photographic prints can be ordered for family and friends.
OR…the artist can draw the bridal party live at the wedding reception. He will take photos of each person and use the pictures as reference to draw the portrait on a 22×30 inch sheet of watercolour paper.  You can arrange to have the photographer/videographer take a time lapse video of the drawing from start to finish. This is ideal during dinner when guests are not lining up to have their portraits drawn.  When dinner is over, the group bridal portrait is complete and guests are ready to have their individual portraits drawn.
"Wow . . . just wow!!!  Jay, you did such a great job at our wedding. I am in love with my wedding party portrait!!  I got so many compliments on it!  Thank you so much again, you have my recommendation for life."
—Emily Payne
GUEST SIGNING PORTRAIT
(11×14 or 16×20 framed portrait with matting for guest signatures–contact artist for pricing)
A creative alternative to the traditional guest signing book! Your guest's signature become part of the artwork!  For artwork larger than 16×20, please contact artist.
"This portrait still takes my breath away!  We will treasure this forever."
—Saige C, Mississauga, ON
BRIDAL PARTY & FAMILY MOVIE POSTER
(Full Colour, Sizes come in 13" x 19" and larger)
Just send pictures of each person in the bridal party & parents along with details of the theme of your movie poster: a truly unique and fun way to remember your special day.  Additional prints can be made for family and friends.  Please allow at least 2-4 weeks for completion after the photos have been sent.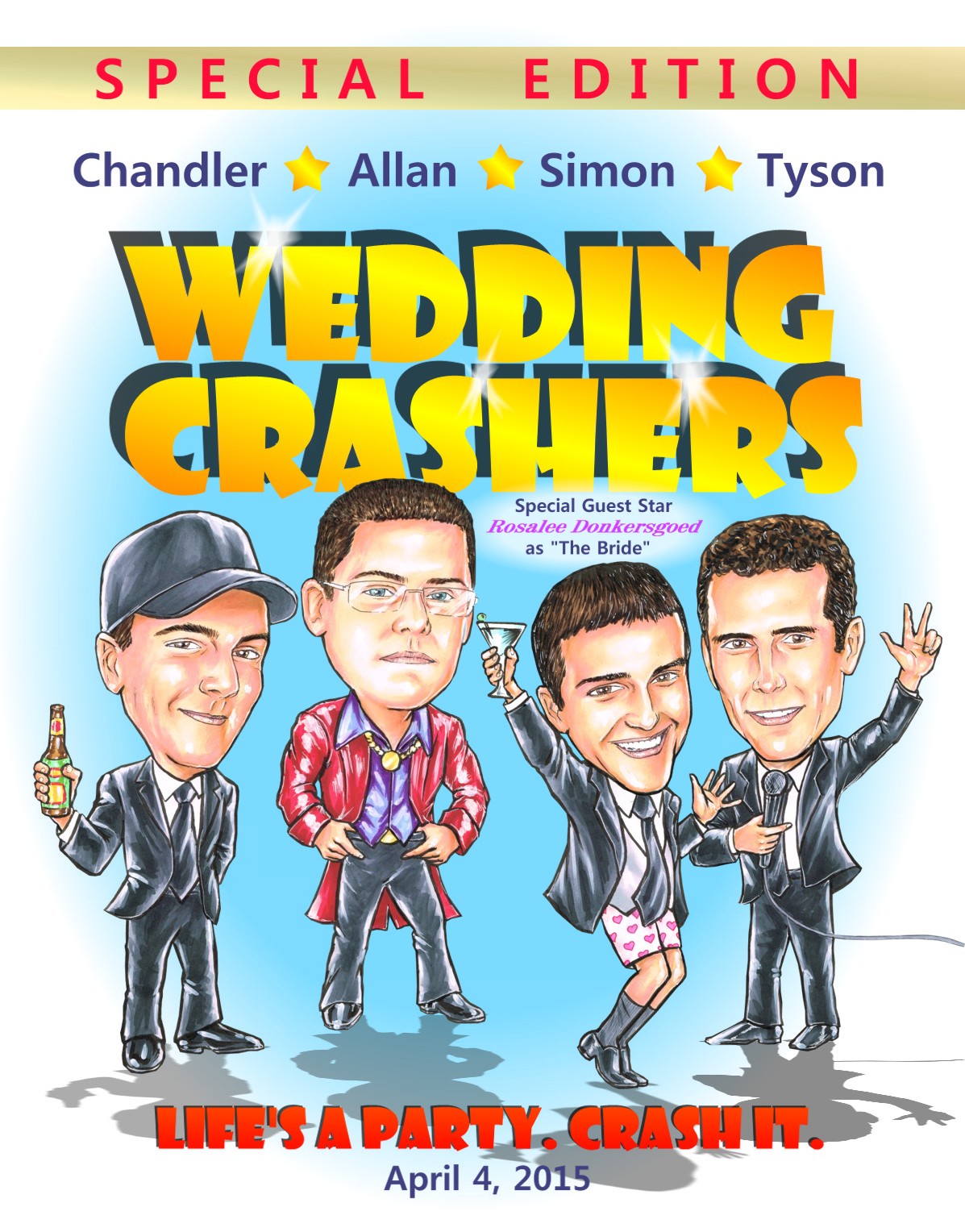 PERSONALIZED COMIC BOOKS:
Be in your own comic! High-quality Marvel/DC style illustration to turn your story into a graphic novel! Be your own customized superhero with a fantastic plot, or graphically portray your real life story. Great idea for newlyweds to display at their reception, either as a printed comic book or as a slide presentation for all the guests to see.  Jay Sese is both an artist and a writer, so he can create the characters, design the costumes and write the story and dialogue from scratch…the only limit is your imagination!  Once the artwork and writing is completed, allow 2-3 weeks to publish the comic in printed form.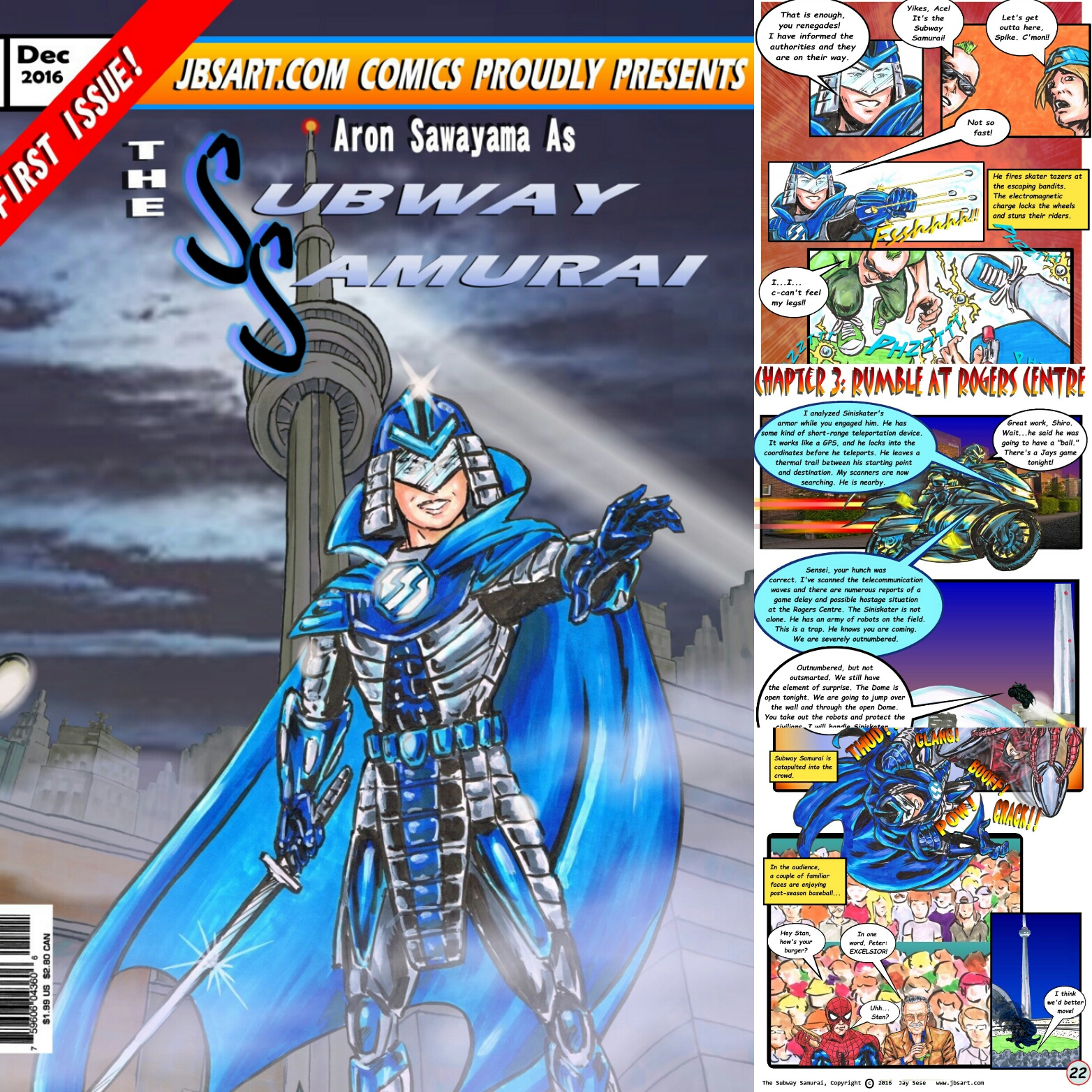 "Aron LOVED the comic!! We've shown it to literally everyone. Best present ever!"
—Aparna Sunder, Toronto, ON
"My husband absolutely loved it. He has already shared it with friends!!!
Thank you for an amazing picture, Jay!"
—Alison Six, Hamilton, ON

CREATIVE ON-LOCATION MARRIAGE PROPOSALS
(Packages start at $250)
Gentlemen: Are you looking for a truly unique and creative way to propose to your girlfriend?  As you can see from Steve's proposal to his girlfriend Meg below, the artist will provide a full colour matted portrait of you popping the question. The artwork will be drawn weeks beforehand, and the details will match the location of your proposal.  The artist will help you to set up an on-location scene where you and your girlfriend will accidentally "meet" him.  The artist will utilize his acting skills to set the stage for your momentous event…like something out of a Hollywood movie!  The entire proposal will be discreetly recorded on video for you so you can can share that special moment with family and friends.
"Jay, I can't thank you enough.  You made a beautiful night that much more 
amazing.  Meg and I appreciate it more than you know!"
                                             –Steve P.
"Thanks for everything Jay. You were amazing!"
                                             –Nauman Naseer
Quick Caricatures ($30 and up):
Spare the travel and just email us a picture. We will email you a high-resolution file of the drawing which you can print yourself and use on social media.
CUSTOM HIGH QUALITY ARTWORK
(Realistic portraits, pet portraits, caricatures, real estate portraits and pretty much anything you can imagine, drawn and painted by hand or in digital media.  Sizes and materials vary depending on type of artwork.)
Just send photos and/or a description of your idea.   A minimum $50 non-refundable deposit is required to start a project.  Prior to inking/colouring of the artwork, a pencil sketch will be sent to the client for approval so that there are no surprises when the artwork is completed.  In the pencil stage, revisions can be made until the client is satisfied.   This makes the creative process worry-free!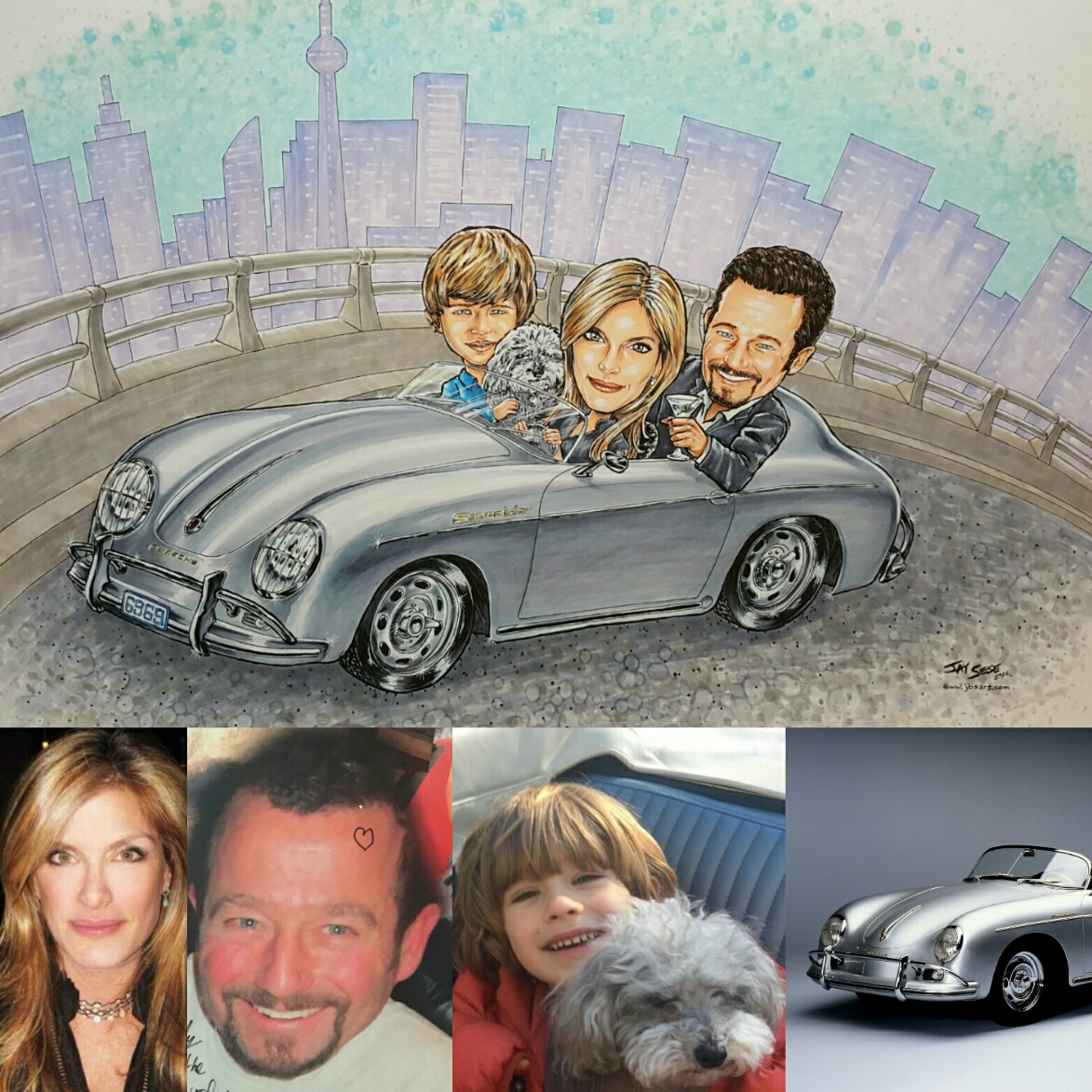 22×30 painting on watercolour: original artwork showing the reference photos sent by the client.